Planning to start an online eCommerce business? Chances are the guy next door has already had the same idea a couple of years ago, started his business, and since discontinued it.
Amazon and Flipkart can procure products in large quantities, which lowers the price of their products. Your business is far from this reality. Therefore, in such a highly commoditized market, it makes sense to focus on niche products to sell online in India, which have low competition, reasonable margins, and focused target groups. You can specialize in one product type and later expand your portfolio on a similar line.
In this guide, we have compiled the trends of eight niche products to sell online from the past 14 years. They've gravitated well towards modern trends, so you can turn any of these product ideas into a successful eCommerce business!
1. Gym Wear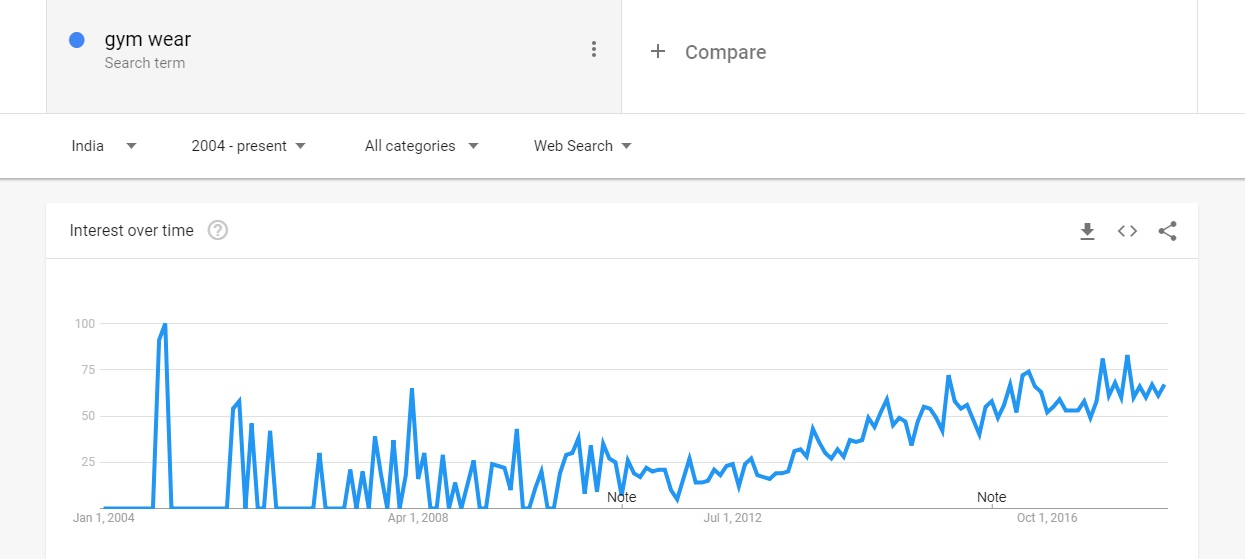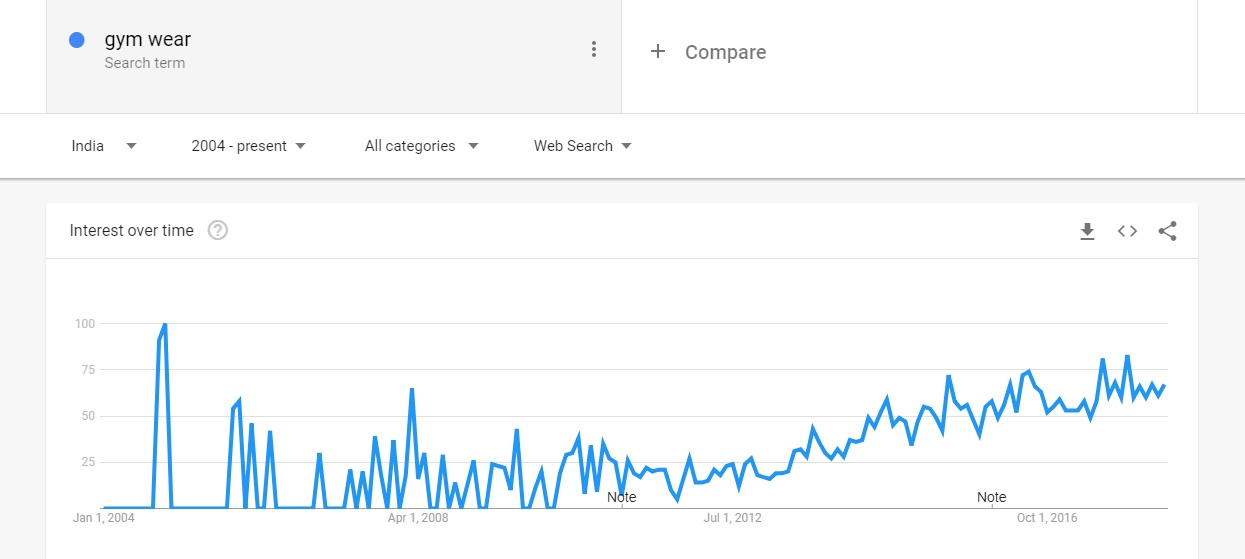 Since 2004, there's been a rise in the trends of gym wear. As more and more consumers are getting conscious about their health and fitness, they have started hitting the gyms, which has led to a rise in demand for gym wear.


The number of monthly searches for "gym wear" in India alone is 2900, which clearly mirrors the trend pattern, and this number is likely to grow in the coming years.
2. Maternity Wear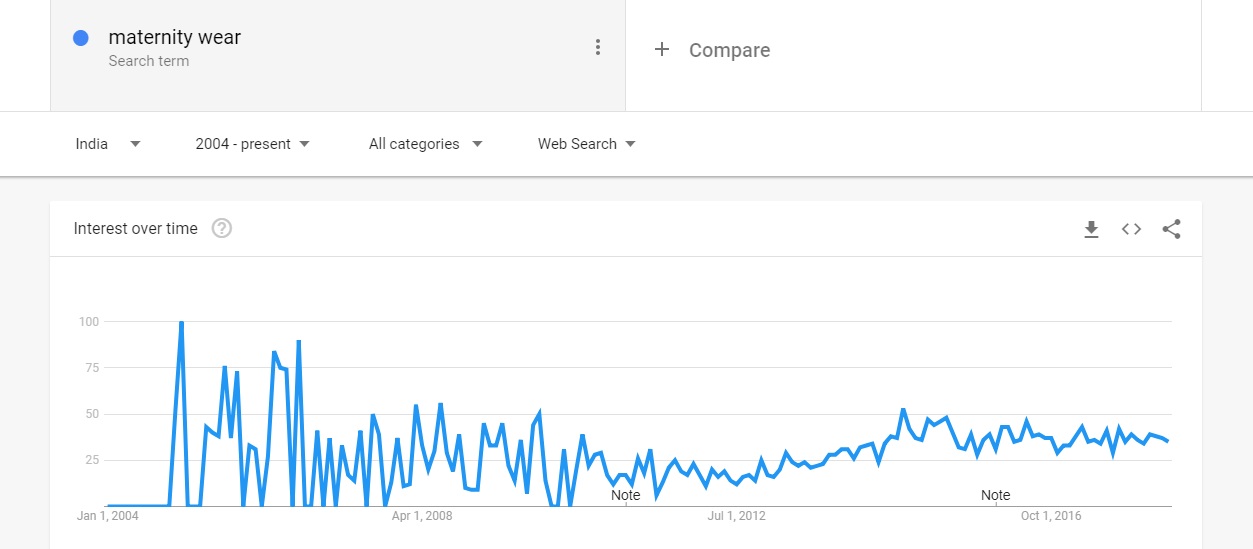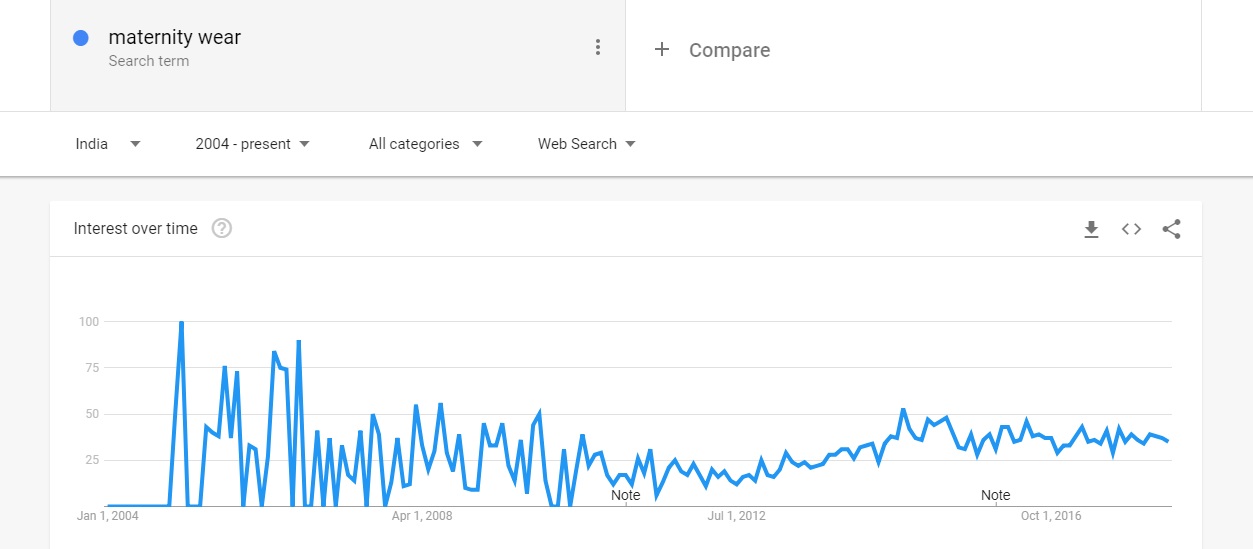 The trends for maternity wear show a steady-to-rising pattern since 2004. There's a strong hike in the demand for maternity clothes.


The number of monthly searches for "maternity wear" is astounding. More than 12,000 people in India are looking for maternity wear, and demand continues to rise with the growing population.
3. One Gram Gold Jewellery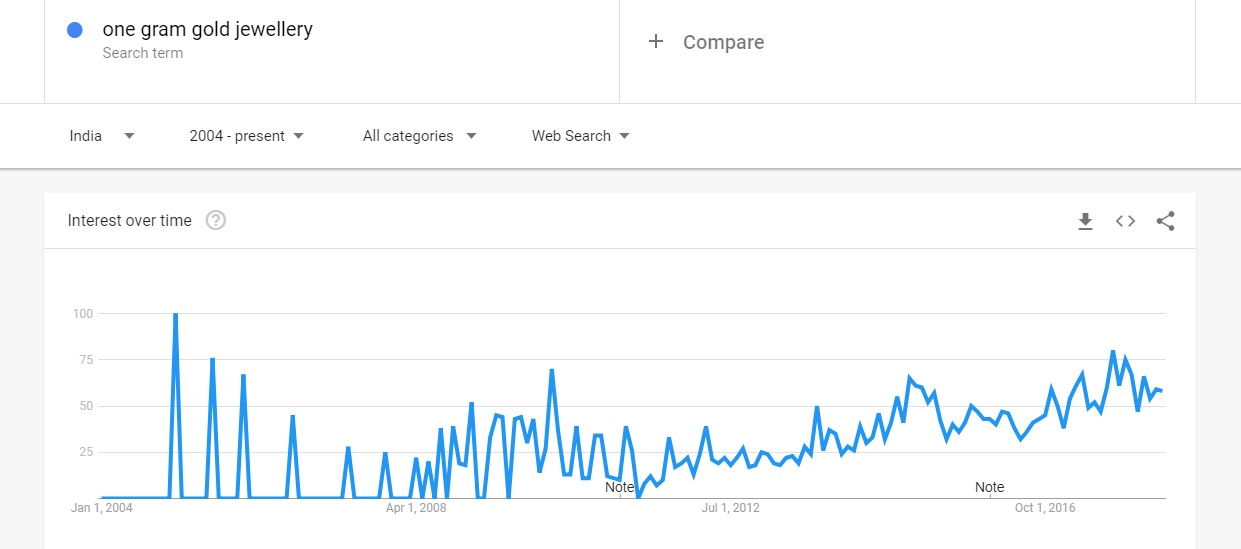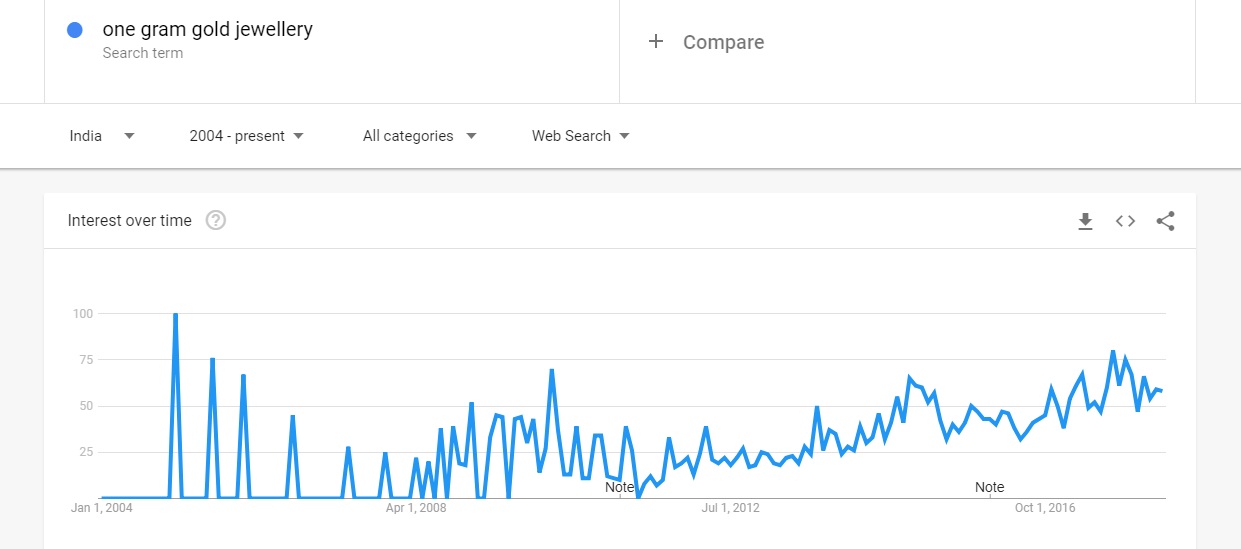 One gram gold jewellery refers to jewellery made using inexpensive metal and artificial gemstones. The obsession with imitation and artificial jewellery amongst Indians continues to rise.

As many as 8100 monthly searches have been recorded for the term "one gram gold jewelry." If you can offer exclusive or handmade jewellery, consumers won't mind shelling out a bit more for your products. The profit margins on artificial jewellery items are as high as 100%, which makes it one of the best niche products to sell online in India.
4. Massage Oil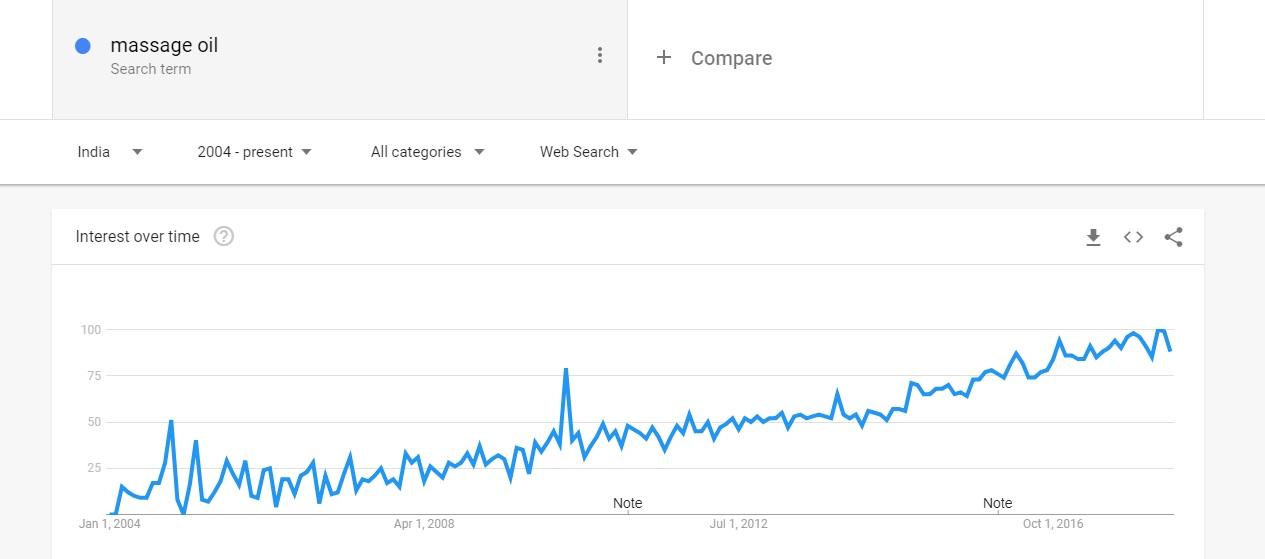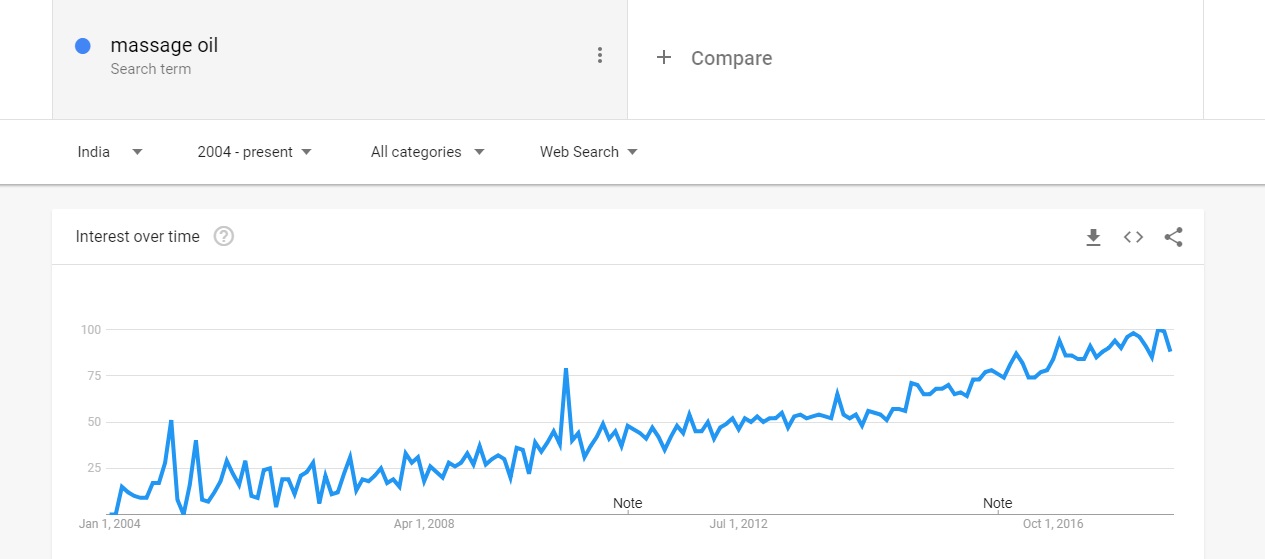 The market trends for massage oils in India have exhibited an exponential growth pattern over the past 10 years. Stressful lives, long commute hours, and body aches have contributed to a swift rise in this trend.


The average monthly searches for "massage oil' are over 12,000, which complements the pattern shown above. There are several kinds of massage oil available on the market. You can put together a small product portfolio and start selling, then later expand your product line based on the market response.
 5. Green Tea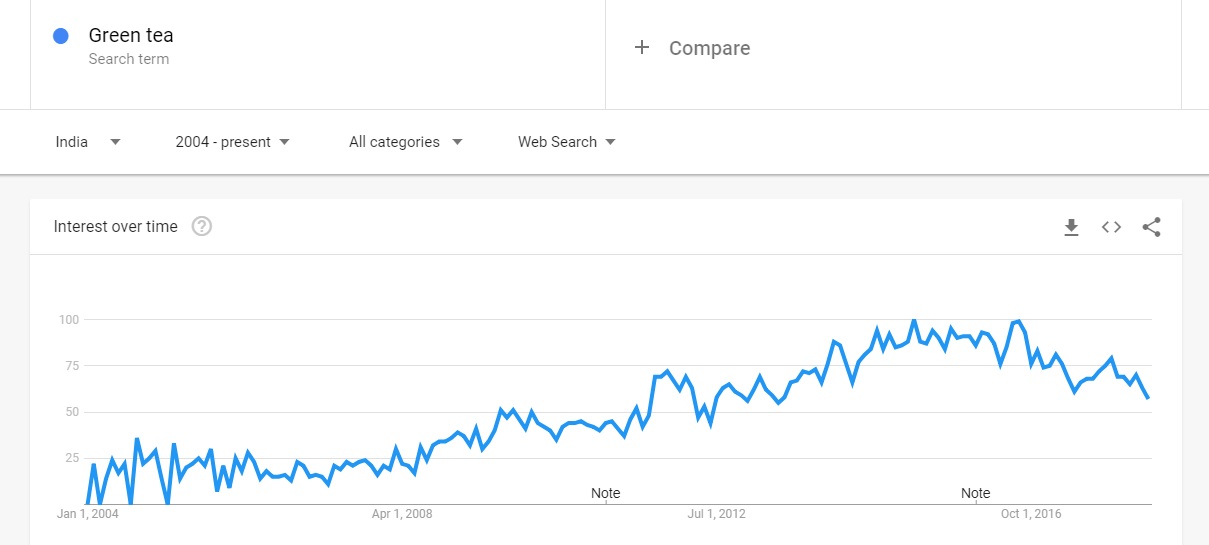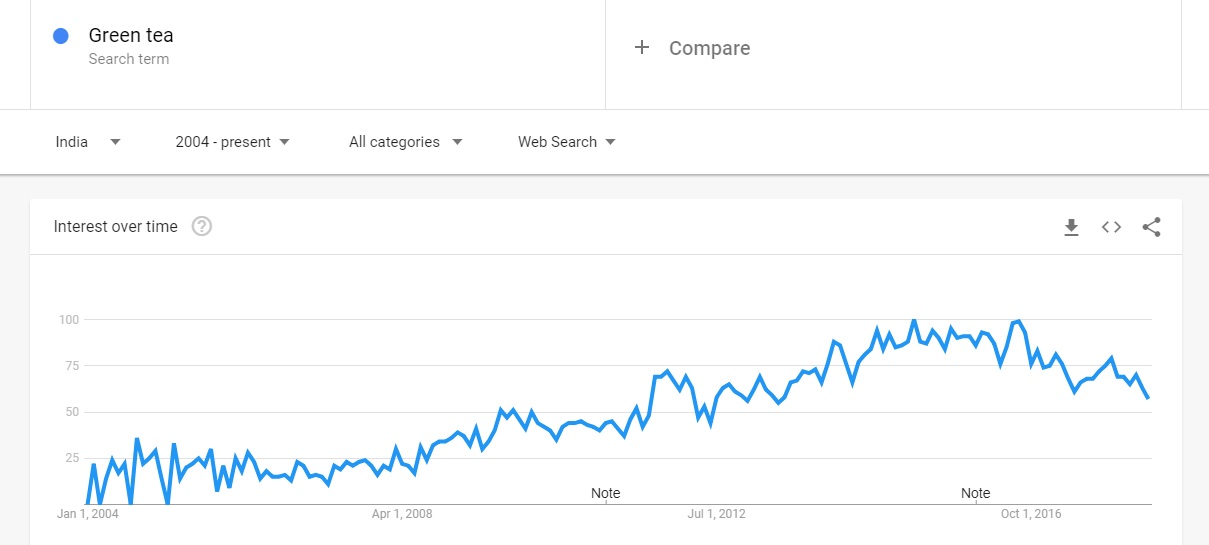 As of late, green tea is a common substitute for black tea, which creates a huge opportunity for online businesses to offer a wide range of green teas. The trend pattern for green tea indicates that it's one of the best high-demand niche products to sell online in India. The market is not yet fully tapped as there's still a lack of awareness of the benefits of green tea in many regions of India. The younger generation, however, is well aware of its antioxidant properties and is more than happy to make it a part of their everyday lives.


The number of monthly searches for "green tea" in India is not surprising at all. This number is expected to rise with time and the prospects for this product look promising.
 6. Rucksack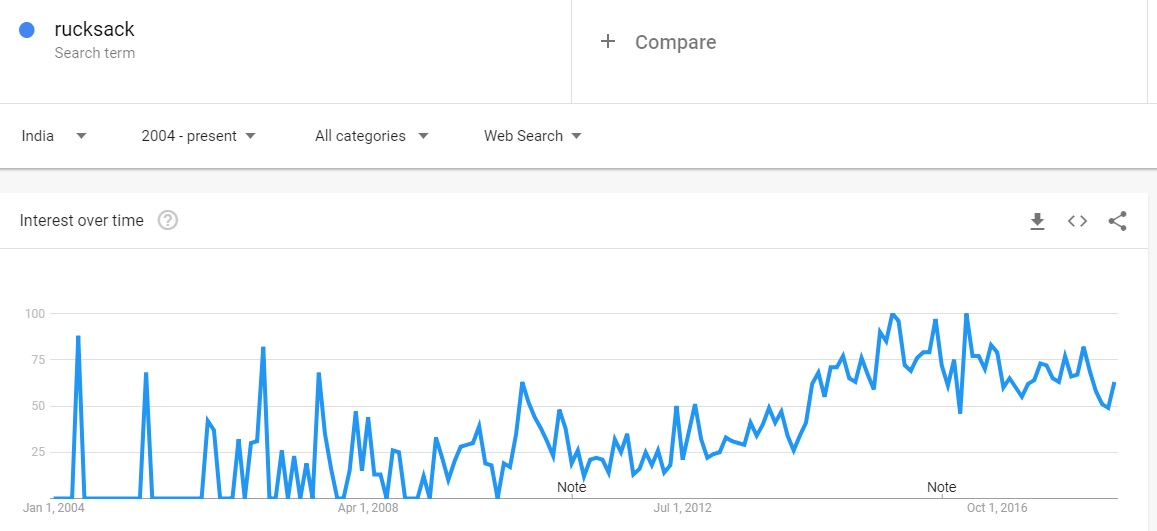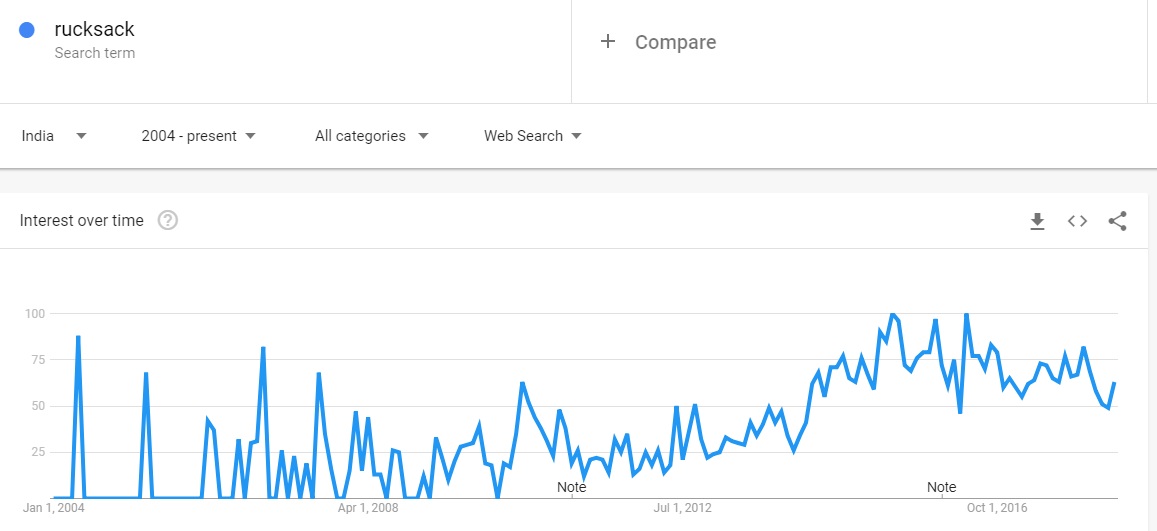 Rucksacks are large, rugged backpacks used for hiking and camping trips. The travel bug has hit the Indian population hard lately. Traveling in India has become more of a trend than a hobby, as the rise in searches for "rucksack" clearly indicates.


The average monthly searches for "rucksack" are decent and promising. Offering rucksacks for different kinds of expeditions will certainly create a highly focused market for your products.
 7. Sugar-Free Cake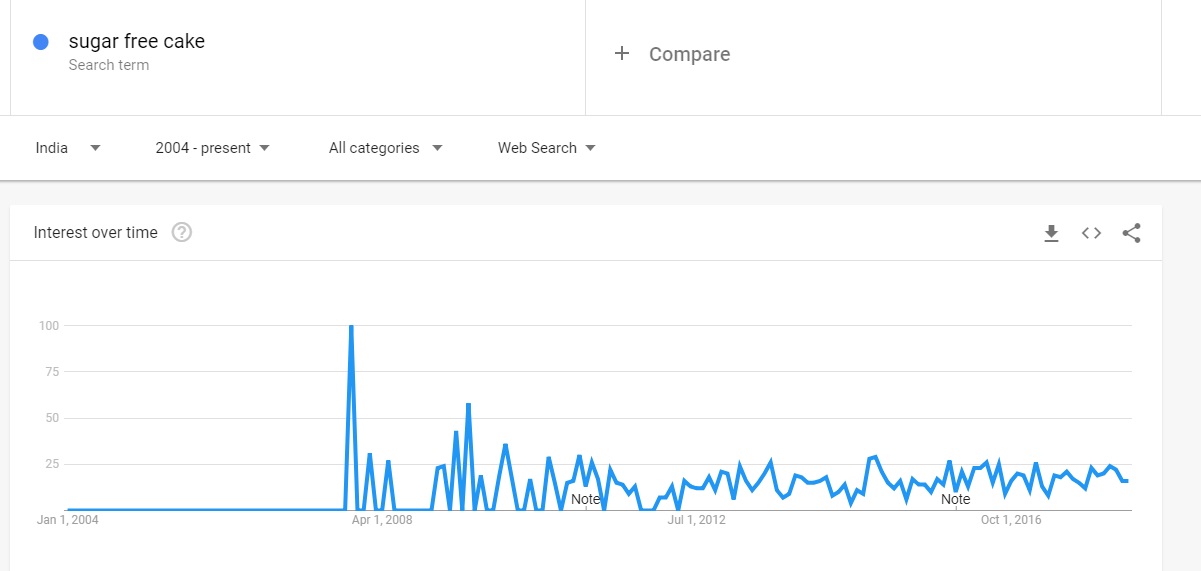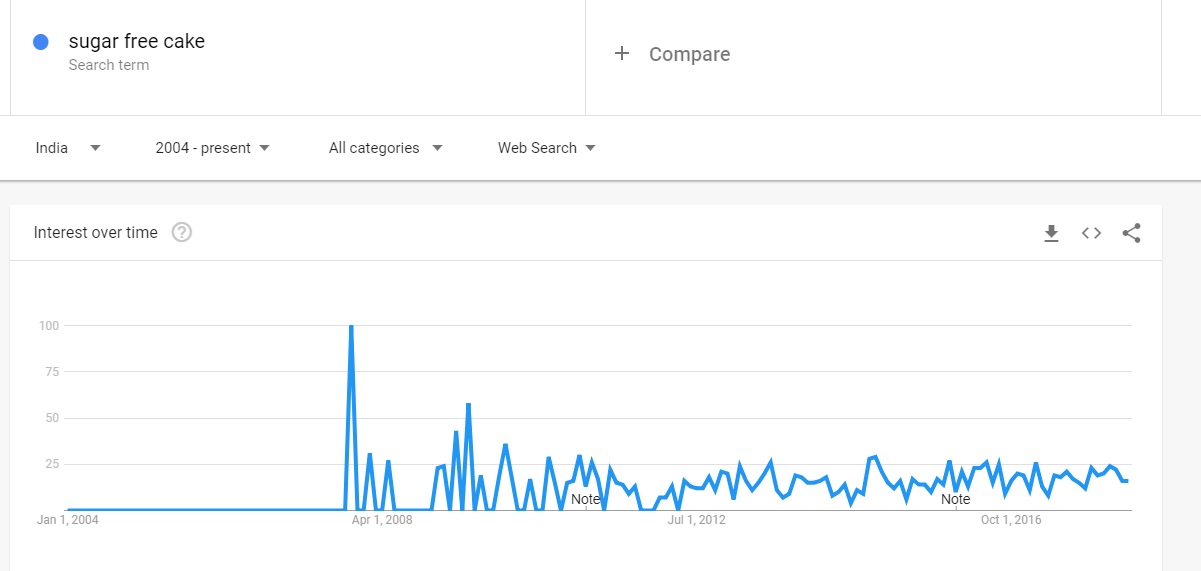 The trend patterns for sugar-free cakes are somewhat topsy-turvy. This product didn't exist until 2008. However, the future of sugar-free cakes looks bright as more and more health-conscious consumers and diabetic patients search for them.


Though the numbers are not yet big for "sugar-free cake" searches, it would be best not to overlook the potential and opportunity this product holds in the coming years. In fact, now is the best time to start selling them because the competition is low.
 8. Beard Oil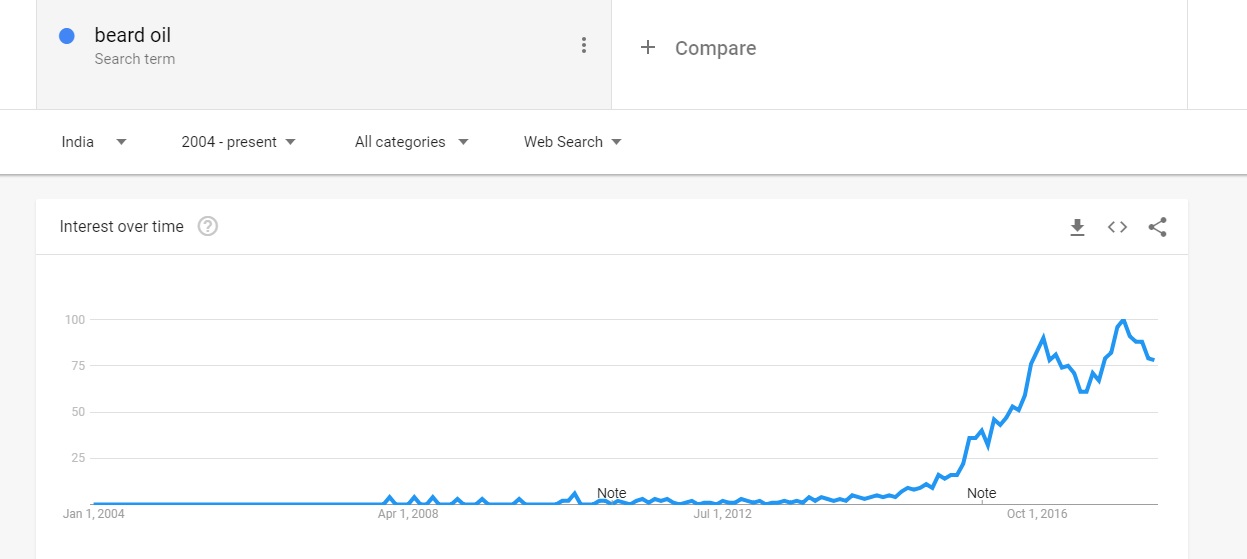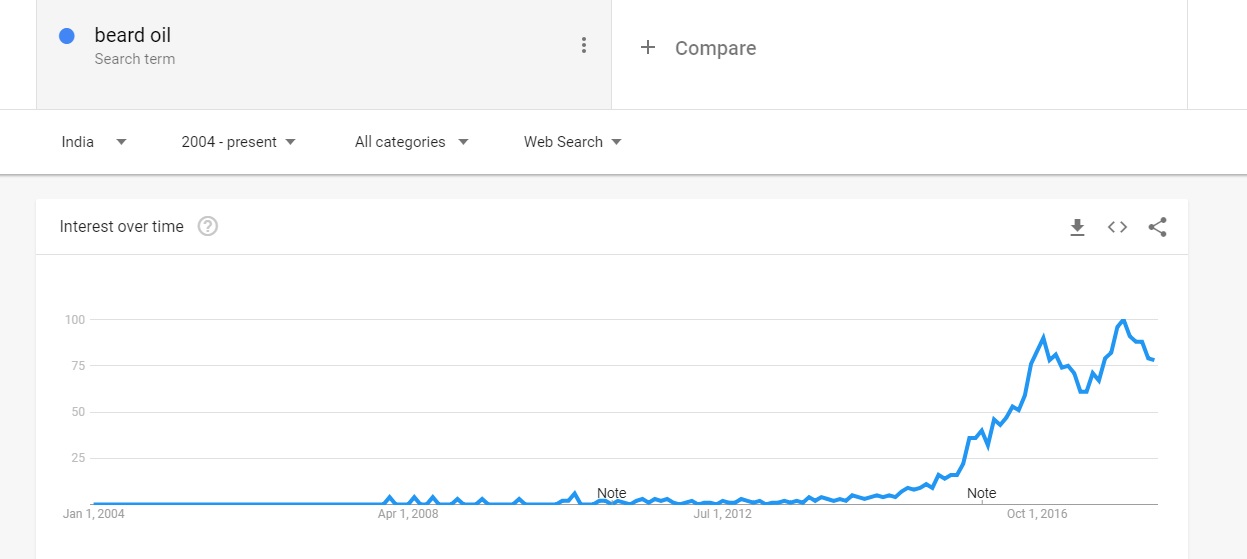 The trends for "beard oil" show that this product has been absolutely huge in India since 2015. The burgeoning buzz for facial hair is a trend in India and will continue to be so for the foreseeable future.


The monthly searches for "beard oil" clearly show that many people are looking for this product. If you can establish a specialty store offering different kinds of beard oil, you can create a niche brand with a well-defined target market.
Time to Start Selling
If you've decided to sell niche products in India, you're starting off on the right foot. Once you've finalized your product portfolio, get a domain name containing your focus keyword which is brandable, relevant, and SEO-friendly. Then you can set up an eCommerce website for your products and start selling!