It's an exciting time to be an online retailer. The internet has been a gateway for plethora opportunities for merchants to sell online in India. Unlike previous times, you don't need big money to start a retail business. However, the traditional channels of retailing have changed to a great extent.
Whether you want to upscale your existing offline business or start a new eCommerce business some great products to sell online in India, there are two ways you can sell online in India.
Selling on Marketplaces like Amazon, Flipkart, Jabong, Myntra, Patym, etc.
Selling via your own eCommerce website
Both these mediums of selling have their own in-built pros and cons. This guide aims to explain how to sell online in India via both mediums and the pros and cons tied to each.
Selling Online in India via Marketplaces
A lot of online merchants adopt this model to sell online in India. There are various marketplaces in India like Amazon, Flipkart, Myntra, Jabong, PayTm, Snapdeal, Shopclues, Limeraod, etc. and a few specialty sites like FirstCry, where you can start selling right away. These marketplaces are open to millions of merchants. All you need to do is to register as a seller and upload your product pictures. There are a few pros and cons which you must be aware of before selling on marketplaces. 
Pros and cons of selling online in India via marketplaces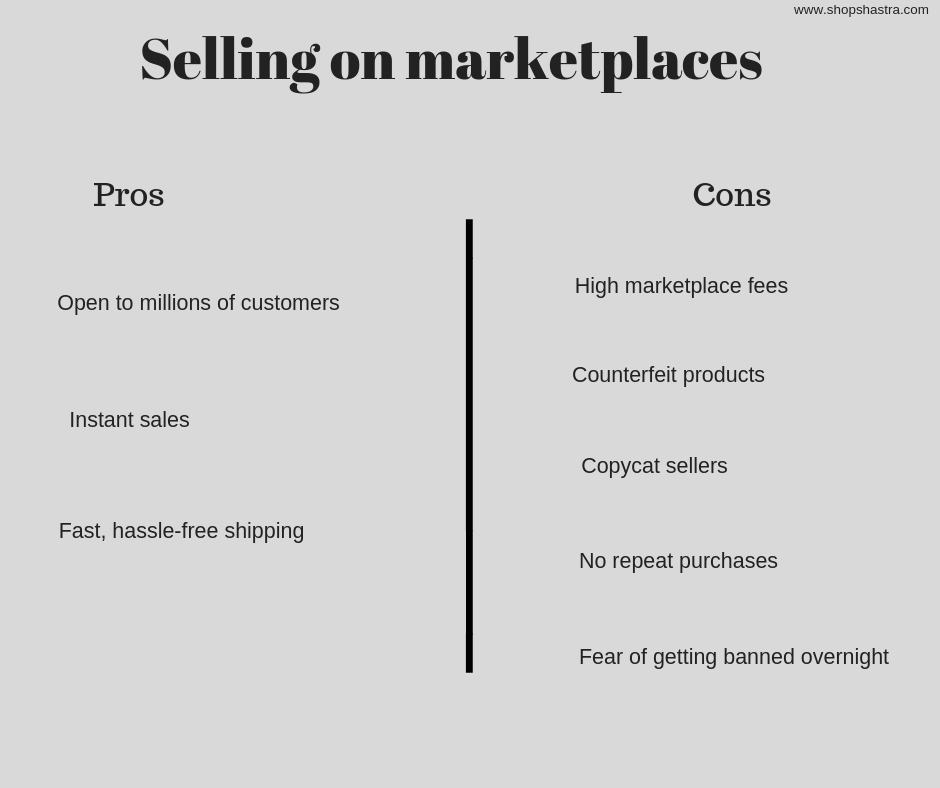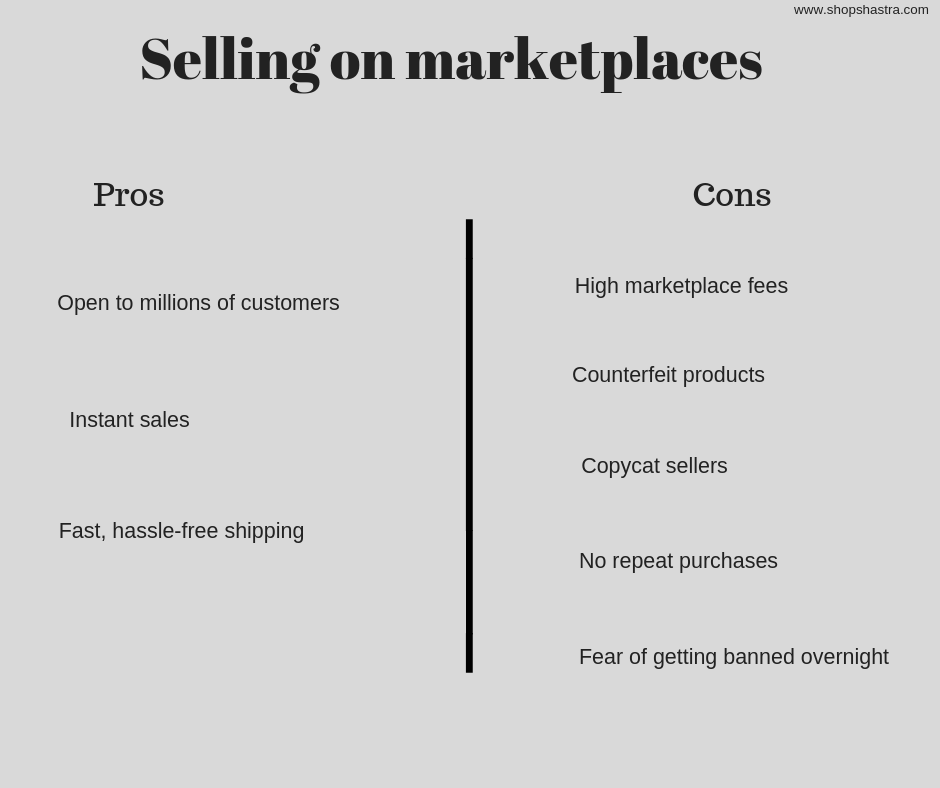 Pros
Open to millions of customers
Marketplaces like Amazon and Flipkart are India's largest online retailers. Every day, millions of customers shop, which means your products can be seen by thousands of people each month. This increases your sales even without marketing.
Instant sales
The best part of selling on marketplaces is you can start receiving orders from day one. Customers looking for products on Amazon and Flipkart look for prices and reviews instead of sellers' details. If the price of your product is competitive, you'll likely win the sale.
Fast, hassle-free shipping
All marketplaces handle the headache of shipping for you: you receive the order and someone else comes to your store, picks up the product, and delivers it straight to the customer. You get fast, stress-free shipping for your business and your customers enjoy excellent service! 
 Cons
Apart from marketplace fees, there are a few more cons associated with selling and a lot of them cannot be fixed.
Copycat sellers
When you set up your products, you may face some product photography costs. Many naive sellers who sell the same product may copy your product images and descriptions to avoid these costs and steal your sales by keeping their prices lower than yours.
High marketplace fees
Selling on marketplaces is really expensive. Averagely the fee is around 30% (GST, referral fee, shipping charges, commission and GST on services) of the product price. Unless, your profit margins are more than 60%, it does not make sense to sell on marketplaces.
Inability to gain loyal customers and drive repeat purchases
Buyers on marketplaces search for products, not for brands or sellers. Your products may sell like hot cakes, but you still won't reach your full sales potential because you can't reach out to your customers and drive repeat purchases.
Counterfeit products
If you're selling products under your brand name, unscrupulous merchants may use it to sell fake low-quality products at lower prices. The worst part is that if customers buy them, they may leave negative reviews on your authentic products.
Fear of getting banned overnight
Marketplaces care about buyers, not sellers. As a seller, you are required to maintain certain metrics in your account to remain in good standing with Flipkart and Amazon.
Many ill-intentioned sellers have people purchase competitors' products, then coordinate returns. If you get too many returns or bad reviews too fast, marketplaces may flag your account and ban you overnight. The worst part is that there's not much you can do except respond to each complaint one by one.
If you're a successful seller on any of the marketplaces, chances are you'll encounter at least one of these issues at one point or another. The good news is that the marketplaces are continually updating their algorithms to combat fake reviews, coordinated returns, and copycat products.
Selling through your own eCommerce website
When you create your own eCommerce website, you can sell products under your brand name and retain 100% control over your store without worrying about bad marketplace etiquette.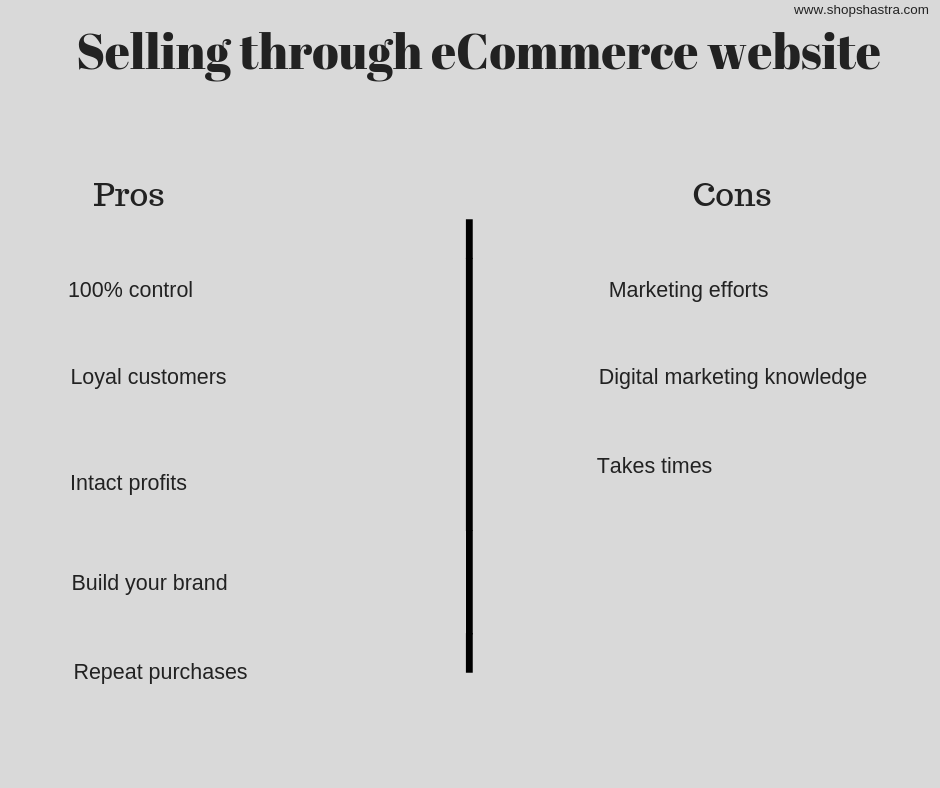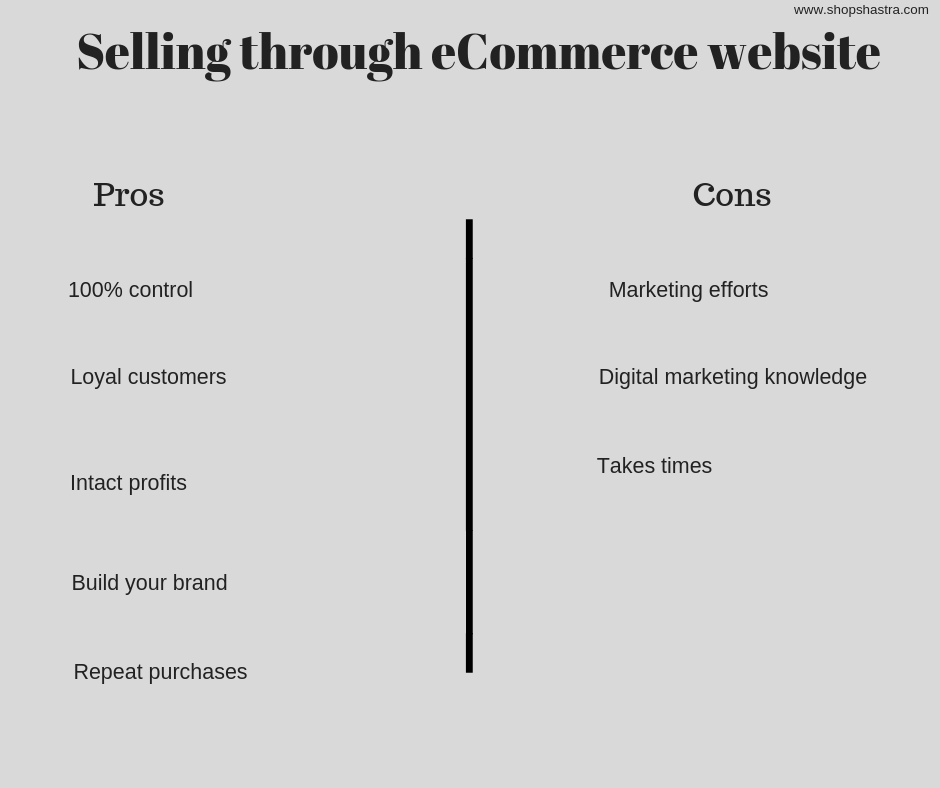 Pros
100% control
Establishing your own online store gives you the freedom to control everything—setting product prices, dictating your product display, and so on. You can run marketing campaigns, promote on social media, engage with your customers, and grow your business.
Loyal customers
When you offer discounts, and running marketing campaigns, you will build loyal customers. Also, you have contact details, and you can send marketing and promotional emails to drive repeat purchases.
Intact profits
Your profits are 100% yours. There are no marketplace charges, or any other charges when you set up your website. The same profits you can use to scale up your business.
Build your brand
With your own ecommerce website you can build your own brand. With your logo, brandable domain name, personal and company info, people will start knowing you personally. This way, your business will go a long way.
With pros come cons. These are not exactly the cons but the steeping stones towards success. 
Cons 
Marketing efforts
When you're done setting up your website, you need to promote it to drive relevant traffic. So, at the beginning you've to spread the word about your business on social media, Google, YouTube, etc.
Digital marketing knowledge
Promoting your store requires you to have an intermediate level of knowledge about Google Shopping Ads, SEO, social media marketing, and other marketing sources.
Takes times
Finally, it may take some time to drive relevant traffic to your store, and achieve your first sale. Building brand and generating awareness will take time but so is the case with all good things in life. The efforts are worth it.
Adopt multichannel strategy to sell online in India
To be successful in the long run, you absolutely should get a head start by selling on marketplaces. You just shouldn't put all your eggs in one basket. Remember, Flipkart and Amazpn care more about buyers than sellers, so you have no choice but to follow their rules or risk losing your business.
On marketplaces, you have no control over the platform, your branding, or the behavior of other sellers. That's why you should also have your own eCommerce website through which you can build your brand, gain loyal customers, and have total control over your business. Keep in mind that you don't have to ditch marketplaces entirely; with your own eCommerce website, you can build a brand and use Flipkart and Amazon as additional sales channels.